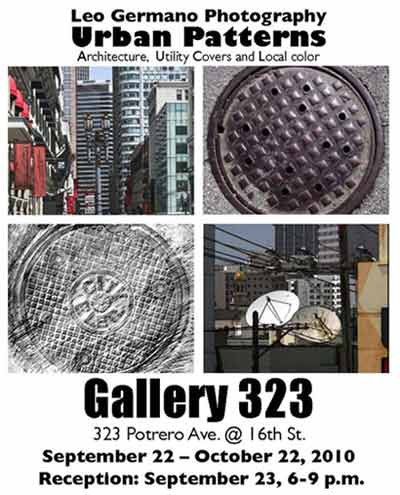 Urban Patterns - a show of digital photography and rubbings by local photographer/artist, Leo Germano, opens September 22 at the 323 Gallery at 323 Potrero Street. A reception for the artist will be held on Thursday, September 23rd from 6-9 p.m. in the gallery and courtyard.
This show consists of Manipulated Digital Photography of San Francisco, with a special section devoted to Photographs and Rubbings of Manhole Covers from Europe, and the US. The graphic photographs represent the artist's intention to blur the distinction between photography and drawing. Leo is known for looking up and down as he walks the streets hunting for subjects.
Above are the industrial details of pipes, heating ducts, windows, antennas - and below, he finds utility covers compelling enough with their metallic mandalla-like patterns to capture with his camera or graphite stick as rubbings.
The purpose of all the imagery is to create a feeling in the viewer of seeing a common object in a different light, and perhaps to note design, drama and beauty in the most commonplace of objects and views.