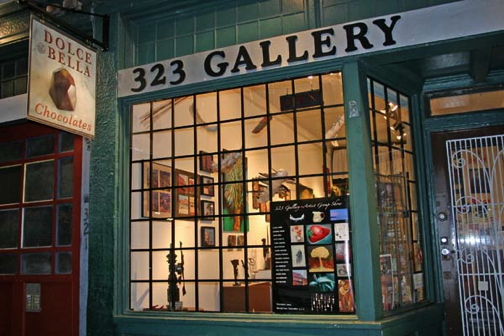 Review on 2009 Group Artist Show by Judith Kahn for the San Francisco Sentinel:
http://www.sanfranciscosentinel.com/?p=53152
On December 21, 323 Gallery, a new exhibition space for local artists, will be hosting a reception from 6:00 – 9:00 p.m. Nestled in the intersection of Potrero Hill and the Mission at 323 Potrero Street, going to an opening here is always a fun and festive occasion. This is true not only for the one-of-a-kind, affordable art objects found in the gallery, but also for their charming courtyard/patio, situated behind the gallery, and always open during a reception. Freshly grilled hamburgers, a good selection of wine, a variety of artesian cheeses and other tasty morsels, including Dolce Bella Chocolates will be served. In addition, visitors can listen to a lively acoustic band of guitar, fiddle, and bass.
The gallery itself is inviting. Curator Suzanne Couture and Judy West, manager, welcome you to an enjoyable, relaxing evening. For them, each opening event, whether individual or group, is a celebration. The pair has collaborated together over the last two decades in many artistic ventures. They have also worked and lived together in the gallery's immediate neighborhood for 20 years. During these years, they have cultivated a broad network of local artists and craftsmen in nearly all artistic disciplines. "Many of us have been working together in different capacities," said Couture, "so it's fun to have this new project together."
Judy West is a geologist, a certified gemologist, environmental scientist, and founder of a nonprofit organization dedicated to helping San Francisco's industrial neighborhoods transform into healthier communities. Couture received a BFA from the School of the Art Institute of Chicago and an MFA from the San Francisco Art Institute. She is currently a staff artist at the de Young Museum in Golden Gate Park, as well as a freelance artist and designer. Couture grew up with an aunt who was an art teacher and a folk historian, who traveled extensively in Poland and Eastern Europe. She inherited her aunt's collection and one day plans to exhibit it at the Gallery. Both West and Couture have life long backgrounds in environmental arts education and collaboration with science and technical innovators, having met at a collaborative site-specific art project in the Nevada Desert called Desert Siteworks. This project brought the first artists to the now famous desert event we know as Burning Man.
"Zan" Couture sees 323 Gallery as a community, and this view is what helps to define the gallery. She remarked that their artists are both local and friends – working together as teachers, collaborators, designers, muralists, scenic artists, public artists, writers, and musicians. Many day-to-day activities, knowledge, and skills are continually shared here, and collaborators take joy in watching one another's artistic skills blossom. Some of the artists live and work in neighboring co-op collectives such as Project Artaud, Developing Environments, 1890 Bryant, Melting Point, and The Ranch, many having worked together in a variety of capacities for years. 323 Gallery wants to provide a retail outlet for the expanding creative community in the immediate area as well as establishing a network of artists and tradesmen.
Stunning acrylic scenic and abstract paintings on canvas and wood, playful sculptures, exquisitely designed agate stone rings, wood and metal bracelets, and well-crafted, colorful necklaces are just a few of the art objects you will see when you visit 323 Gallery. Jennifer Ewing's exquisite spirit boats hang gracefully from the ceiling. Located on an obelisk in the corner of the gallery, there are also magnetic copies of the artist's work for sale, for those who cannot afford the actual print or painting of a particular artist. Handmade artisan chocolates by award winning chocolatier Audrey Vaggione are also available. The vibrant flavors from Audrey's Saratoga garden are captured in creamy ganache and enclosed in beautiful jewels of chocolate.
Couture and West are enthused that the neighborhood surrounding 323 Gallery is an emerging cultural district, no longer considered the wrong side of the tracks. The last freight to roll west of Mission Bay stopped in 1991. With the closing of the Best Foods Mayonnaise plant on Florida Street, the area began to flourish with artists and arts related businesses. Large factory buildings have been subdivided into smaller work studios. On 17th Street, there is now a cluster of theaters, galleries, and cafes. West notes with the gradual removal of tracks from the base of Potrero Hill, the neglected area has transitioned back to the historic neighborhood it was before being severed from the rest of the City by the 101 freeway. Presently, both 16th and 17th Streets are slated to receive major transit upgrades. Couture and West hope the plan becomes a reality.
As they move into the New Year, Couture and West look forward to the continued growth of their local community and artist network. Their show could not come at a more opportune time. With Christmas almost upon us, 323 Gallery is a delightful place to look for the unusual and affordable gift. To find out more about their gallery, visit: 323Gallery.org or call 415-626-4333. Open Wednesday–Friday 3-7 p.m., and by special appointment.